Une montre connectée signée Google sous Android Wear, le nouvel OS où plutôt une version simplifiée d'Android destinée aux objets ayant besoin de communiquer, un OS pour les petits écrans (de montres :-) ) et doté de fonction de reconnaissance vocale...basique mais bien utile. Les développeurs devraient pouvoir s'éclater en proposant des nouvelles utilisations originales d 'Android Wear...
Une envie de développer ? Les outils sont gratuits...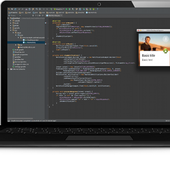 Get Started with the Developer Preview
The Android Wear Developer Preview provides tools and APIs that allow you to enhance your app notifications to provide an optimized user experience on Android Wear. With the Android Wear Developer ...