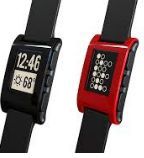 La Pebble, la montre connectée idéale ? Peut-être...Elle est compatible avec Android et Apple, son code est ouvert pour les développeurs et elle s'offre même son Apps Store pour les applications du moment et futures...Si à cela j'ajoute que son autonomie moyenne est de 5 jours, la Pebble a de sérieux arguments pour séduire...
Prix : 170 euros
Pebble Apps - Unofficial Appstore for Pebble Smartwatch
allPebble is the unofficial appstore for the pebble smartwatch. All pebble watch apps can be installed directly from your smartphone. Host your own apps for free on our app store!